EPL 2017 ANALYSIS & EPL 2018 PREVIEW
Published on : 01/31/2018
It is with great pleasure that we announce the successful completion of TVS EPL 2017. The tournament succeeded in its objective to joins investors, sponsors with cricket to jointly work for its development. The tournament added competitive cricketing days in our domestic calendar which otherwise was non-existent. EPL proved to be a great opportunity for young, aspiring talents to come forth and showcase their skills with the world watching! Plenty of examples in the past two editions where young players, previously unheard of, made their mark and were picked straight away into the national team! EPL succeeded in its goal to bring together not just the cricketing fraternity, but the society as a whole and it has given everyone an opportunity to join hands and further contribute in the development of Nepali cricket!
We would like to thank first all the Nepali Cricket Fans who turned up to support the game, national and international players who made excellent cricket happen, the press for getting the word out and then sensationalizing EPL, our team owners, our sponsors, partners, volunteers and all cricket enthusiasts without whom EPL 2017 couldn't have happened.
EPL witnessed unparalleled support from most and set records in terms of viewership and attendance. Over 15,000 fans in a domestic match is a record in not just cricket but all sports. The tournament gathered half a million views per match and feedback in millions from around the globe. The foreign players, introduced mandatorily for the first time in Nepali sports, were able to create a dynamic impact both on and off the field.
The following demonstrates EPL2017 stats as per the research conducted by EPL and its partners: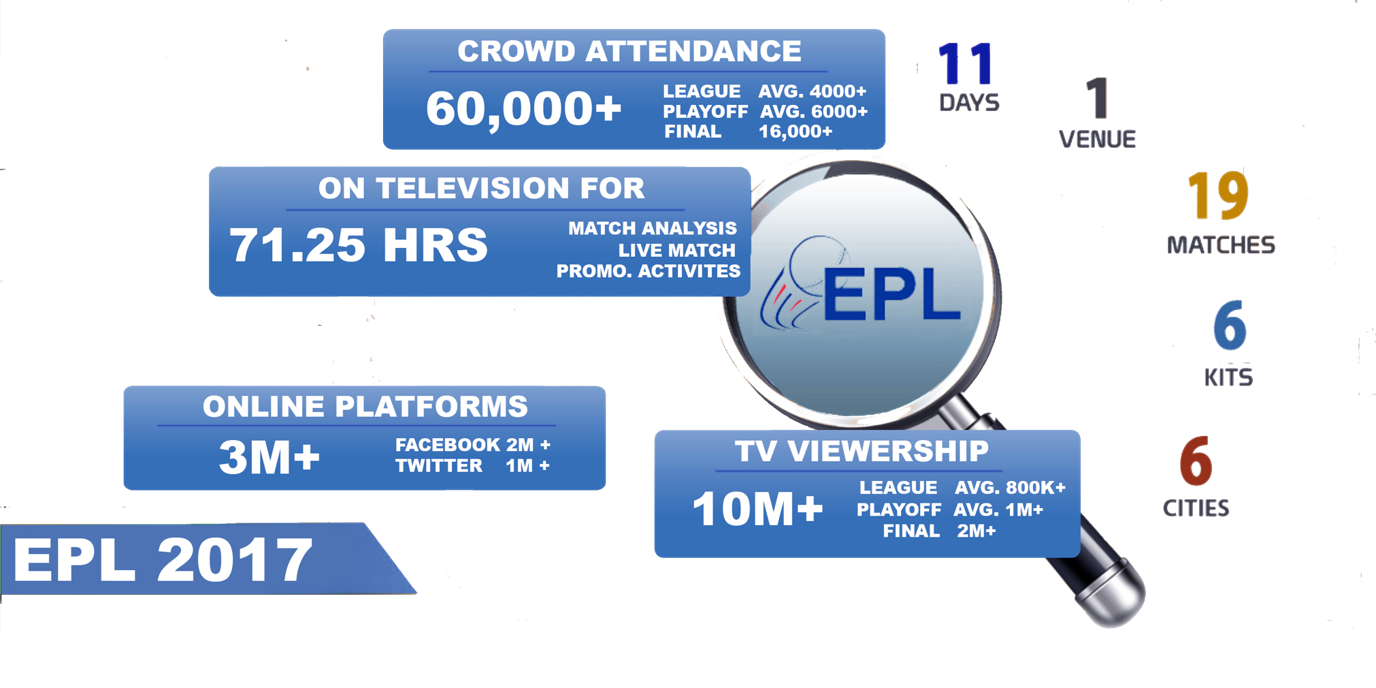 EPL 2018 is already within sight and work has started already. EPL in all its seasons (has and) will happen with the primary objective of organizing competitive cricket and bringing everyone together: the fans, the sponsors, enthusiasts and sports stakeholders for the development of the game. EPL 2018 shall be no different, only the magnitude of the event will be multiplied. We are expecting bigger names from the international arena, more cricketing days, bigger crowd and bigger viewership. EPL 2017 was the biggest but EPL 2018 will be bigger…!
"EPL 2017 was a great success whether that be in terms of the cricket being played, the crowd, the viewership, mileage for the sponsors and investors, everything came together to make sure that it was a hit! But we are not dwelling in the past too much. There's a lot of work to do for 2018 and we have begun already. With everyone's support I'm sure we will achieve it! The next season of Everest Premier League will be everything EPL 2017 was and many times more!"



- Aamir Akhtar Founder, EPL